Wood flooring FAQ's
Manufacture accepted product tolerance, upon and down warping, edge damage( not damage surface & Décor ), and some unqualified product. The tolerance inclusive edge, thickness, width, T&G, etc.
| | | | |
| --- | --- | --- | --- |
| Products tolerance | warping | Edge damage | Unqualified |
| ≤0.25mm | <18.5% of length | <1.5% of length | <0.3% |
| | | | |
| --- | --- | --- | --- |
| Color variation | Sapwood (white of edge) | Color change | Knots & wood grain |
| Accept | Accept | Accept | Accept of Large quantity |
What is Engineered flooring?
non-allergenic
permanent and durable
warm to the touch
convenient to use
regulates the micro-climate
unique
100% real wood*
a stable structure resistant to changes in temperature and moisture*
possible to lay over underfloor heating*
fast and independently installed*
possible to renovate many times*
top quality at a good price*
That is Engineered timber flooring
Engineered floors are the best thing to happen to floors since sliced wood. Engineered floors look and feel just like solid wood, but you can lay them in areas where solid wood can't go – like kitchens, basements, and conservatories. Engineered flooring comes with multiple layers (3 layers or multi-layer).
What is Three- layers engineered wood floors?
Three- layers engineered wooden floor:
This is about flooring top layer is solid wood veneer. The second layer is plywood. The baseboard is soft pine wood.
Why three-layers engineered flooring?
The Best to control cost.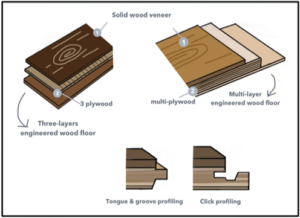 What is Multi-layer wood flooring?
Multi-layer engineered floor
top-layer is solid wood veneer, multi-layer is multi-plywood.
Why multi-layer engineered flooring?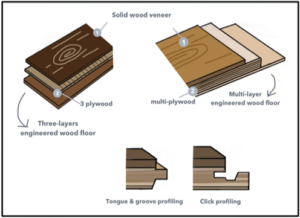 What is  flooring finishing?
Oil Finish
The oil penetrates the pores of the wood. Impregnating it against moisture and bringing out the natural features of the wood.
Lacquered Finish
Multi-layered coating with a UV-hardened lacquer system protects the floor by forming a surface safeguarding it against abrasion, dirt, and micro-scratches.
Unfinished Finish
Ready for any finish, and this is sawed timber.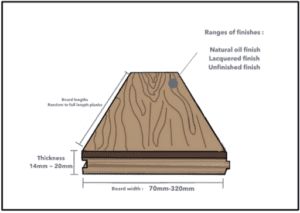 What is Colour variation?
The face lamella or veneer on all engineered flooring is natural and subjects to the natural color variations within the species.  Colour or tone variations are less apparent in some species than others, but no two flooring packs will be similar in every detail. This is part of the beauty of choosing a natural product in that it is unique.  Purchasers need to be fully aware of the natural color variations, which will occur between boards of the same species. One pack may have a different blend of colors to another pack, especially if they were not manufactured simultaneously.  Many manufacturers proposed that boards from varying packs are blended into the floor during installation, but with some suppliers, that is not to open more than a few packs at a time.
 The customer must be fully aware and accepting of the fact about color variation occurs.  If there are significant concerns regarding the flooring supply, it must be raised with the supplier before laying.  Normal colorations between boards do not provide grounds for replacement, which is needed for any concerns raised before laying. 
Retailers and consumers should also be aware of the large amount of color change, which can occur in wood due to exposure to natural light.  This could always imply an extremely contrasting variation in color between the in-store sample (which may be some years old) and the newly delivered flooring.  Some species are prone to more intense color changes than others.  As can be seen, the potential for dispute and disappointment on inspection of the new flooring can be substantial, which may be avoided by proper education of the retailer and the consumer. With the more t effect pronounced, floor mats and rugs are not supposed to be used for up to 6 months, noting that greater care at external doors may be necessary during this period to prevent grit entry from footwear.  Similarly, some furniture items may need to be regularly moved if it is desired to minimize this effect. Colour change is a natural occurrence, which is familiarly not considered to relate to product quality.
Please understand that the flooring color variation is hugely different for light and natural color, sometimes like another color.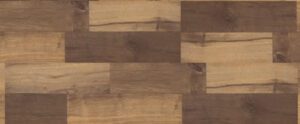 What is Floorco  wood flooring grading?
Prime Grade 
Varied colour pattern, tiny knots and no cracks and no silver grain.
Mixed Grade 
Varied colour pattern, small and medium knots and small size filled cracks, silver grain, sapwood.
Natural Grade 
Varied colour pattern, small, medium and big knots and from small size filled cracks, silver grain and sapwood.
Rustic Grade
Varied colour pattern, medium and large knots, medium and large filled cracks, silver grain, sapwood and distinct wood figure
Antiqued Grade
All the lively wood characteristics that occur in any flooring, such as large colour variation, frequent knots, heavy mineral streaks, checks, worm holes, large grain burls and figuring.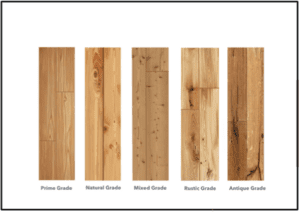 What is Floorco wood flooring bevel?
Micro bevel edge:  flooring joints together that have a very small bevel.
Natural bevel: flooring joints together that have a feature a lager bevel. And this is more suitable for wet areas.
V-edge bevel : flooring joints together that have a "V" style bevel.
Antiqued bevel: flooring joints together that have an uneven bevel edge and that look like antique style.
Square bevel edge:Non bevel edge, not suitable any of wet areas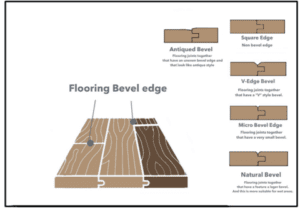 What is wood sapwood / white edge?
Sapwood is not a defect but rather a natural occurrence in timber it is the younger wood of the tree that grows around the older darker Centre of the tree. natural wood flooring can not control for sapwood, and this is common.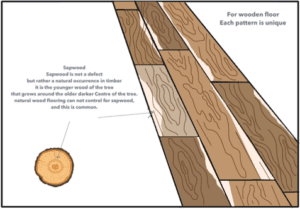 What is Floorco  wood flooring VOC's?
Engineered is a wood-based material as a carrier and contain like any natural wood product formaldehyde. The possible emission quantity for Engineered floors is 0.03 ppm.
Yes, some floorings are easy to install. But it is important to talk with one of our consultants first. Following with:
Barlinek flooring
Atwood Engineered wood collections
GL flooring
Wol Flooring
Does floorco fitting flooring and how long will be take?
Yes we do.
Normally it takes one day for a less than 30 sqm area, if need extra preparation for the subfloor such as levelling or sanding, removing existing floor covering, taking off skirting boards will take 0.5 to 1 day for a 30sqm area.
If you choose a glue-down method, it will cost double time than floating method because of the waterproofing process and the installation
How to choose the installation method for a flooring?
The conventional method is nail down that nail timber floor to subfloor or directly fixed to structure such as joists or plats.
Nowadays, floating and glue-down is very popular. Some materials require both nail and glue. This will specified by the trade.
Floating is the most popular manner due to its speed, economic and easy to replace. Laminate flooring have to choose this method. Vinyl plank such as SPC or LVT can choose either floating or glue-down. Some engineered wood flooring can be laid by either of them. But most of real wood flooring is fixed by glue-down.
Glue-down can provides stableness to the flooring, despite it's a time-consuming and costs more. Engineered flooring thick than 15mm must be glued down to the subfloor. If the subfloor is concrete slab on ground or above a moisture room, a waterproofing job is recommended.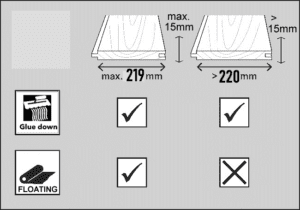 How about underfloor heating?
All the floors at Floorco can used for underfloor heating either hot water or electric heating system. While the surface temperature of the laid flooring must not exceed 27  ℃ permanently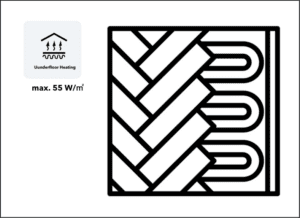 How about underlay & moisture barrier?
For concrete or screed subfloor under unfavourable climate conditions, moisture can raise and cause swelling of laminate flooring. A underlay can provide sound proof and moisture barrier, normally 2mm-3mm thick.