Solid wooden timber is made of solid wood throughout its thickness. It usually made of a hardwood species, such as oak, maple, or walnut.
Hardwood flooring is made from a relatively thin layer of hardwood bonded over a substrate of premium-quality plywood. This construction makes the engineered wooden flooring is more stable than solid wooden flooring. Normally, engineered wooden flooring is supplied prefinished, with the color and finish already applied to the hardwood surface. A high-quality engineered wooden flooring typically lasts 25 to 30 years.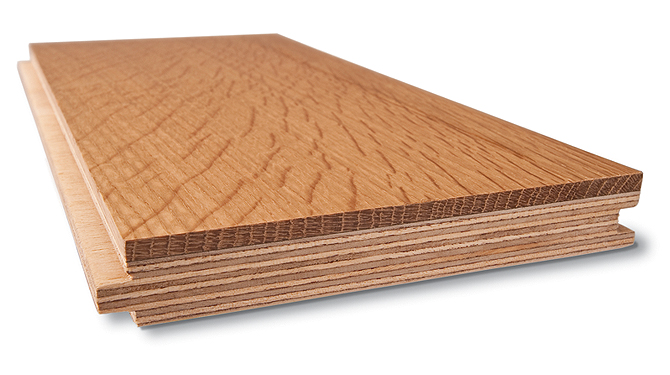 These two kinds of flooring will be compared by the following aspects:
1. Sanding and Refinishing times
The advantage of solid wooden flooring is that it can be sanded and refinished many times in its lifespan.
About the engineered wooden flooring, it can be sanded and refinished one to three times, depending on the thickness of hardwood layer, for example, the 3mm top layer product can be sanded 1-2 times, while, the 6mm top layer product can be refinished 2-3 times.
2. Stability
Solid wooden flooring is not recommended for installation against concrete, since the amount of moisture present in the concrete slab can cause solid flooring to swell and warp.
While, engineered wooden flooring has better performance in humidity locations as its plywood construction makes it more stable and less susceptible to warping or shrinkage caused by moisture. In fact, the multi-layered wood expands and contracts at less than half the rate of a solid wood flooring. This construction makes the engineered wooden flooring perfect for humid climate conditions of New Zealand.
3. Cost
Most solid wooden flooring is supplied as raw wood planks, and must be finished on site, including time-consuming sanding and coating (polyurethane or oil is applied to the flooring). Although the cost of raw materials is not too expensive, added the finishing labor fee, the cost of solid wooden flooring will become very expensive.
By comparison, engineered wood flooring is supplied prefinished, with the color and finish (lacquer, UV oil or natural oil) applied in the factory. Recently, the popular prefinished options include smoked oak, band sawn, scraped, brushed, the list goes on. The cost of engineered wooden flooring is very competitive, due to the cost to apply the finish in a factory is inexpensive.
4. Installation Method
Normally, the solid hardwood flooring is installed with a tongue-and-groove system, it needs to be nail down or glue down, in which each board is blind-nailed to the subfloor down through tongues at the edges of the boards.
While, about the engineered wood flooring, it is also installed with the same glue down methods used for solid hardwood, but there are also forms with click-lock system edges that can be installed as a floating flooring. Most DIYers find that the click-lock or glue-down forms of engineered wooden flooring are easier to work with than the nail-down methods used for solid hardwood. What's more, the engineered wood flooring can also be direct glued down against a concrete subfloor or a wooden subfloor.
5. Environment Friendly
Engineered flooring uses approximately one third of the amount of solid hardwood resource compared to solid wooden flooring. Therefore, selecting engineered wooden flooring is helping to conserve the precious hardwood resources.
In conclusion, engineered wooden flooring is the clear winner when it comes to the materials cost, stability, installation convenience and the contribution to the environment.