SPC Vinyl flooring vs WPC
On the vinyl market, there are two types of rigid core luxury vinyl currently—stone plastic composite (SPC) and wood-plastic composite (WPC) rigid vinyl flooring. Except for the core layer, these two types of flooring are essentially the same makeup of layers.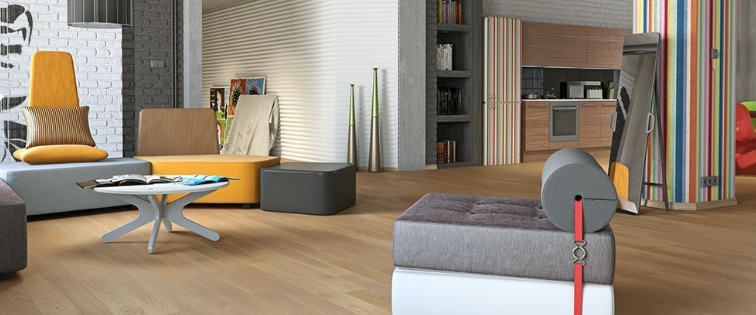 A plank of SPC or WPC is made up of the following from top to bottom:
SPC, which stands for Stone Plastic Composite. It features a core that is typically comprised of natural limestone powder (calcium carbonate), polyvinyl chloride and stabilizers (plasticizers).
Wear layer: This is the layer that provides resistance to scratches and stains. It is thin and completely transparent.
Vinyl layer: The vinyl is durable and strong. It is printed with the flooring pattern and color.
Core layer: This is the waterproof core made from either stone plastic composite (SPC) or wood plastic composite (WPC).
Base layer: EVA foam or cork forms the base of the plank.
But it is the difference of core layer that can make all the difference.
SPC vinyl flooring is the most durable vinyl flooring option on the market, which is not distortion or warping and not harmful emissions. What's more, it is also heat and sound insulation, eco-friendly and completely waterproof.
Another one is WPC, which stands for Wood Plastic Composite. WPC is a combination of wood flour or wood-like materials, polyvinyl chloride, a thermoplastic resin, a foaming agent and stabilizers (plasticizers).
As the foaming agent in the core layer, the core is relatively thick, resulting slightly softer, more comfortable and resilience when standing on it for long periods, and more warmth.

These two types of vinyl flooring will be compared by the following aspects:
1. Thickness
WPC vinyl floors is usually the thicker product, due to the foaming agent in core layer. The plank thickness of WPC floors is generally 5.5 to 8 millimeters, while SPC floors fall usually between 3.5 to 7 millimeters.
2. Patterns
In terms of pattern design, there is not much difference between SPC and WPC. With today's advanced digital printing technologies, the resemble wood, stone, marble, and unique finishes are easy to produce on SPC and WPC vinyl flooring both visually and texturally.
3. Waterproofing
SPC and WPC vinyl flooring are both waterproof, that are resistant to warping when exposed to moisture. That makes it an excellent choice for moisture rooms, such as kitchens, bathrooms, basement and laundry rooms.
4. Durability and Stability
WPC flooring is made from wood plastic composite, while, the SPC core is made from stone plastic composite. The stone is stiffer and sturdier, giving the SPC flooring a stronger, more robust core.
Although both WPC and SPC vinyl flooring are incredibly durable, SPC edges out the competition. Because the core layer of SPC flooring is comprised of limestone, which offers this flooring a higher density but thinner look when compared to the WPC flooring. The core layer makes SPC flooring more durable while offering better at resisting damage to dents or scratches from heavy furniture or items placed on top of it. But does not mean scratches proof.
WPC flooring and SPC flooring can both be installed in the room with moisture exposure and temperature fluctuations. But when it comes to extreme temperature changes, SPC flooring tends to offer superior performance. The denser core of SPC flooring makes them even more resistant to expanding and contracting than WPC flooring. What's more, the SPC flooring is also less susceptible to expansion in the event of extreme temperature changes. But they are not suitable of strong sunlight and temperatures over 30 degrees.
5. Installation
About the installation, the WPC and SPC vinyl flooring are both DIY-friendly. It's easy to install WPC and SPC vinyl flooring by yourselves, because they both feature a convenient, easy-to-install click locking system. The DIY click and lock system can eliminate the needs for nails or glues. In addition, the WPC and SPC vinyl flooring can be floated over the existing floor and do not require extensive subfloor preparation prior to installation.
Overall, there are more similarities than differences between WPC vinyl flooring and SPC vinyl flooring. In the end, the differences all come down to the core layer. If you prefer a higher density and more durable plank, the SPC vinyl flooring is a more suitable option.